ActivTek Air Purification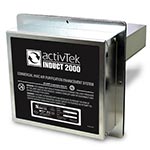 The activTek INDUCT 2000 substantially reduces odours, visible smoke in the air, and microbial populations on surfaces*, utilizing the patent pending ActivePure technology. ActivePure consists of a special UV light and photocatalyst target, creating an Advanced Oxidation Process containing several friendly oxidizers.
The activTek INDUCT 2000 is ideally applicable to situations in which accessible ducts already exist or will be installed and where low maintenance, no cleaning, or discreet installation might also be an advantage. Includes a UV bulb monitoring indicator. Covers up to 2000 square feet.
*Scientific tests have demonstrated the use of activTek air purifiers substantially reduce microbial populations on surfaces – including but not limited to Escherichia coli, Listeria monocytogenes, Streptococcus spp., Pseudonomas aeruginosa, Bacilus spp., Staphylococcus aureus, Candida albicans, and S. chartarum. At this point, product testing does not make a similar demonstration with respect to airborne microbials. These statements have not been evaluated by FDA. These products are not intended to diagnose, treat, cure or prevent any disease.