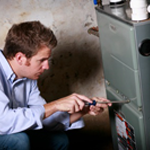 Emergency Repair Service Hotline: 760-343-1002
Air Conditioning Repair Service Palm Springs
When summer hits Palm Springs, the heat can become unbearable and you need to ensure that you have a reliable contractor you can call on to come out and fix your air conditioner! You can rely on Best in the West all over the Coachella Valley during the hottest days and nights of summer. Since your comfort is our primary concern, we encourage you to check our Before You Call tips on troubleshooting your system in case your problem can be easily diagnosed without the need for a service call. In the event you are still need air conditioning service, call us for fast, affordable air conditioning repairs. Our technicians are trained to work on any type of air conditioning system in your home or business. No matter what brand, size or location, no air conditioning repair is too difficult for Best In the West Air Conditioning & Heating. We strive for the best service and that includes fixing your air conditioner during our first visit to your home. Call Best in the West at (760) 343-1002 or Contact Us via our website for the an estimate and to receive the best service in the Palm Springs area.
Heat Pump & Furnace Repair Service Palm Springs
When the chill of winter sets in, Palm Springs residents and businesses can count on Best in the West Air Conditioning & Heating for friendly, convenient repairs to your heat pump or furnace. If you find that you have no heating, feel free to check our diagnostic tips to see if an emergency call can be avoided. If heating repair is required, call us at (760) 343-1002 to schedule service. We will give you an honest estimate of what the repair will cost including parts, materials, labor and warranties. Our licensed, NATE Certified technicians are constantly upgrading their knowledge of current HVAC equipment to provide you superior service. We have the tools, the equipment, and the experience to keep your equipment running smoothly all year long. If it is emergency service that you need, we are available to assist you, 24 hours a day, 7 days a week. To help reduce those service emergencies, we offer performance tune-ups and service agreements to keep your comfort system running at peak performance.
We service and repair all brands including: